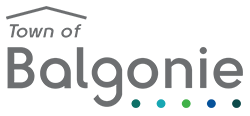 PUBLIC NOTICE
TOWN OF BALGONIE
NOTICE OF INTENTION TO ADOPT BYLAW NO. 418/2020
Public notice is hereby given that the Council of the Town of Balgonie intends to adopt a bylaw, under The Planning and Development Act, 2007, to amend Bylaw No. 374/2014, known as the Zoning Bylaw.
INTENT:
The proposed bylaw will reduce the minimum side yard setback for semi-detached, duplex, and triplex dwellings in the R1-Residential District and the R2-Residential Multiple Dwelling District.
REASON:
The reason for the bylaw is to correct an error in the zoning bylaw and accommodate a proposed subdivision in the R2-Residential Multiple Dwelling District.
PUBLIC INSPECTION:
Any person may inspect the bylaw at the Town of Balgonie Municipal Office Monday to Friday between 9:00 am to noon and 1:00 pm to 5:00 pm excluding statutory holidays. Copies are available at cost at the Municipal Office.
PUBLIC HEARING:
Council will hold a public hearing to receive submissions on the proposed bylaw on Monday, September 28, 2020 at 7:00 p.m. at the Town of Balgonie Council Chambers, Balgonie Administration Building. Council will also consider written submissions received at the hearing or delivered to the undersigned at the municipal office before the hearing. Due to constraints in physical space and Covid-19, electronic attendance will be made available for members of the public. For further information, please contact the Municipal Office at 306-771-2284.
Issued at the Town of Balgonie this 27th day of August, 2020.
Signed:
Karen Craigie, Administrator
NOTICE OF INTENTION TO ADOPT BYLAW NO. 418/2020
---