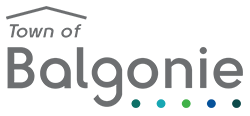 NOTICE OF CALL FOR NOMINATIONS
FOR THE TOWN OF BALGONIE
MUNICIPAL ELECTIONS
PUBLIC NOTICE is hereby given that nominations of candidates for the office(s) of:
Mayor – Town of Balgonie
Councillor – Town of Balgonie (6 to be elected)
Will be received by the undersigned on the 7th day of October, 2020, from 9:00 a.m. to 4:00 p.m., and during regular business hours (9:00 to noon and 1:00 to 5:00 p.m.) from September 22 to October 6, 2020.
Nomination forms may be obtained at the following location:
Town of Balgonie Municipal Office at D-129 Railway Street East, Balgonie, Saskatchewan.
Dated this 10th day of September, 2020.
Karen Craigie, Returning Officer
Deborah Lane, Nomination Officer
Kari-Ann Prevost, Nomination Officer
---