PUBLIC NOTICE
TOWN OF BALGONIE
NOTICE OF INTENTION TO ADOPT BYLAW NO. 446/2023
Public notice is hereby given that the Council of the Town of Balgonie intends to adopt a Bylaw, under The Planning and Development Act, 2007, to amend Bylaw No. 374/2014, known as the Zoning Bylaw.
INTENT:
The proposed Bylaw will rezone Lot 7, Blk/Par 37-Plan 86R66072 Ext 0 from High-Profile Commercial (HPC) District to a High-Profile Commercial Contract Zone (HPC-CZ).  The Bylaw will also list the permitted land uses and establish the site development regulations specific to the contract zone. The subject property is shown in a blue outline on the map below.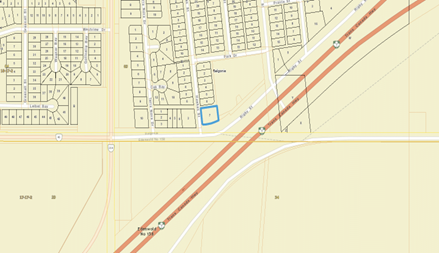 REASON:
The reason for the Bylaw amendment is to accommodate a development proposal for in-fill development on the subject property.
PUBLIC INSPECTION:
Any person may inspect the Bylaw at the Town of Balgonie Municipal Office Monday to Friday between 9:00 a.m. to noon and 1:00 p.m. to 5:00 p.m. excluding Statutory Holidays. Copies are available at a cost at the Municipal Office.
PUBLIC HEARING:
Council will hold a public hearing to receive submissions on the proposed Bylaw on Tuesday, May 23, 2023 at 7:00 p.m. in Council Chambers, Balgonie Administration Building. Council will also consider written submissions received at the hearing or delivered to the undersigned at the Municipal Office before the hearing.  For further information, please contact the Municipal Office at 306-771-2284.
Issued at the Town of Balgonie, this 25th day of April, 2023.
Signed,
Karen Craigie, Administrator
---