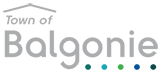 Public notice is hereby given that the Council of the Town of Balgonie intends to adopt a Bylaw, under The Planning and Development Act, 2007, to amend Bylaw No. 374/2014, known as the Zoning Bylaw.
INTENT:
The proposed Bylaw will increase the maximum area of accessory buildings in the residential districts.
REASON FOR THE AMENDMENT:
The Bylaw amendment will correct an error in a previous Bylaw.
PUBLIC INSPECTION:
Any person may inspect the Bylaw at the Town of Balgonie Municipal Office Monday to Friday between 9:00 am to noon and 1:00 pm to 5:00 pm excluding statutory holidays. Copies are available at a cost at the Municipal Office.
PUBLIC HEARING:
Council will hold a public hearing to receive submissions on the proposed Bylaw on 11th day of October 2022 at 7:00 p.m. at the Town of Balgonie Council Chambers. Council will also consider written submissions received at the hearing or delivered to the undersigned at the Municipal Office before the hearing. For further information, please contact the Municipal Office at 306-771-2284.
Issued at the Town of Balgonie, this 22nd day of September, 2022.
Signed,
Karen Craigie, Administrator
NOTICE OF INTENT TO ADOPT BYLAW 436/2022 POSTER
---