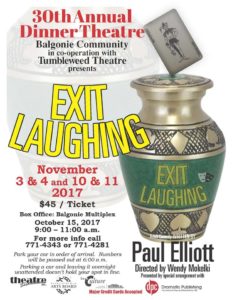 Our annual 2017 Dinner Theatre is right around the corner. This year's play is called Exit Laughing. The dates for the production are November 3, 4 and November 10, and November 11. Box office tickets go on sale Sunday, October 15 at the Balgonie Multiplex from 9:00 a.m.-11:00 a.m. This year, tickets are $45.00 each. Park your car in order that you arrive and numbers will be passed out at 6 a.m. sharp the morning of the 15th of October. Parking a car and leaving it unattended does not hold your place in line.
Around the middle of October, the committee will be canvassing the town and rural community for donations toward the Dinner Theatre. Our members will begin phoning around the middle of October. Please read the instructions below regarding dropping off food items. Thank you in advance for your co-operation folks in making this event such a success. If you have any questions regarding food donations, etc. please phone Susan at 306-771-2202 donations for both weekends may be dropped off Wednesday, November 1 between the hours of 6:00 to 8:00 p.m. at the Balgonie Multiplex.
If you miss the drop off time – donations are accepted at the Multiplex anytime during the event. Please call Penni at 306 -771 -2230.
Please put your name on food items when dropping them off.
Donation items may also be purchased at Cross Country Foods, your name will be placed on the item and Cross Country Foods will deliver your donated item to the Multiplex.
Cash donations are also gladly accepted. Please drop off at the Town office – Cheques made payable to the Balgonie Rec. Board – Dinner Theatre.
We would like to remind you that this fundraiser brings in approximately $35,000.00 into our community. The proceeds this year will be divided between the Recreation Board, Balgonie Swimming Pool, Balgonie Curling Club, the Volunteer Fire Department, the Balgonie Early Learning Centre, Balgonie Playschool, Balgonie Dance and Twirl and the Multiplex.
Our event is also looking for volunteers to assist in waitering, waitressing, kitchen duties, etc.; we would be pleased to have you. If you are new to the community and would like to meet new people, this is a great opportunity. Please phone me, Shaun McBain at 771-4343 or Penni at 771-2230.