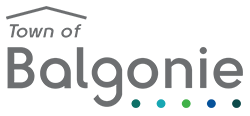 TOWN OF BALGONIE
TUESDAY, MARCH 31, 2020
AGENDA – SPECIAL MEETING
Call to Order – 6:15 P.M.
Approval of Agenda
Declaration of Conflict
The purpose of the meeting is to discuss interest and penalty relief for Town residents due to the economic impact of the Public Health Emergency – COVID -19.
Interest Penalty Relief for Taxation.
Interest Penalty Relief for Utility Billing.
Communication to Town residents regarding the Public Health Emergency and the Town of Balgonie's response.
Adjournment.
ELECTRONIC MEETINGS:
The Town of Balgonie will hold this meeting in the Balgonie Administration Building Council Chambers. Members of the public that wish to attend the meeting are asked to do so via remote methods. If you are interested in attending this or any future meetings of Council while there are restrictions on meeting sizes due to the Public Health Emergency, alternate arrangements will be made. Please contact the Town of Balgonie at 306-771-2284 prior to the meeting to discuss the options with Town Staff.